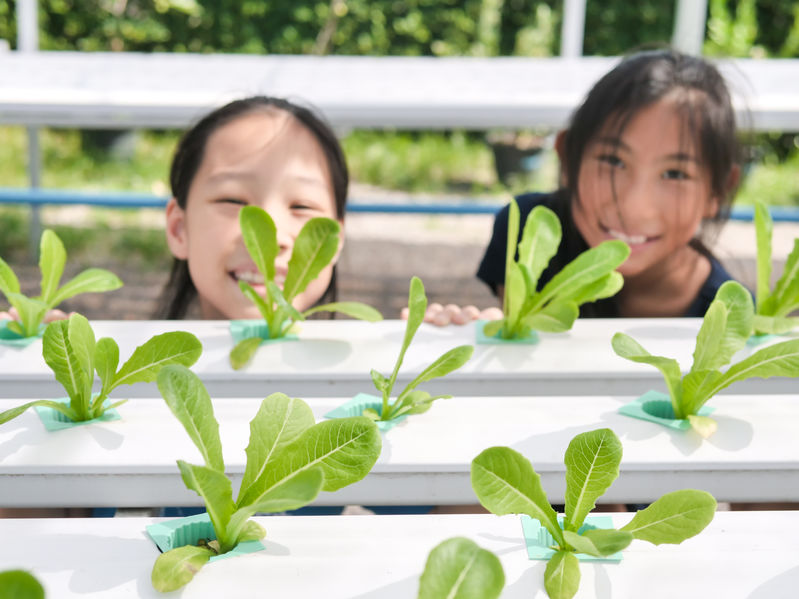 Mandala World Global Agriculture Academy (MWGAA) utilizes indoor and outdoor advanced farming systems which includes cutting-edge technology. MWGAA Indoor Farming System is the practice of growing crops indoors with the use of artificial lighting in a soilless controlled environment. Indoor farming can grow 365 days per year and is not susceptible to the impact of storms and to other extreme outdoor weather conditions. Unlike conventional farming, outdoor farming is dependent upon soil which requires compost to be added, for the essential micro and macro nutrients plants' need and require to grow. MWGAA outdoor farming consists of two main types of farming: subsistent farming and commercial farming. Every society in the World relies on agriculture. MWGAA students will be empowered to understand the essential value of nutritional food and how food plays a critical role in human sustainability, in our global society. MWGAA will introduce students to hands–on agricultural experiences using the Brain Targeted Teaching™ (BTT) Philosophy which leads to students' Mastery of agriculture subjects. Mandala World Global Agriculture Academy students will develop essential leadership skills for their future success and generations.  
                                                     MANDALA WORLD GLOBAL AGRICULTURE ACADEMY                    
The World is evolving and the demand for sustainable foods advanced agriculture methodology is critical for humanity future success. MWGAA mission is to prepare students for the challenges and opportunities to learn advanced permaculture methodologies. One such avenue is cutting-edge hydroponic technology to support growing sustainability for an entire community. Students deciding to enroll in the agriculture program gain access to resources and knowledge regarding indoor and outdoor development of sustainable food sources using this technology. Permaculture goes beyond the Methodology of organic farming and integrates agriculture practices to create better environment conditions. There are 3 principles ethics of permaculture Methodology and Philosophy: care of the earth, care of societies and creation of farming economic equality for humanity.   
MWGAA students studying agriculture will master their understanding of permaculture Methodology and the role in which agriculture is relative in their home environment, community, the nation and the world. Global warming is creating a major concern as it is related to agriculture and production of food therefore it is essential for students to study and master this Philosophy so they can efficiently move forward into the future and be productive.   
Why Hydroponics?
Hydroponics provides the opportunity to create a more efficient supply chain of the food production system for humanity. Hydroponics plants have a higher rate of production without the need for herbicides and pesticides. Hydroponics is a sustainable and cutting-edge technology for growing more nutritional food, while it optimizes use of space, has a higher rate of production, maintains ecological balance and creates a healthier environment. Hydroponics Methodology creates a more efficient social, economic and environmental sustainability for humanity. 

What Our Courses Offer
Mandala World Global Agriculture Academy (MWGAA) course offerings include hydroponic indoor farming courses which assist students in mastery in each aspect of a successful hydroponic system. Brain Targeted Teaching ™(BTT) methodology provides students with the opportunity to grow their own gardens as a learning unit. In addition, this learning experience will provide students opportunity to gain hands-on knowledge with nature. 
MWGAA students will explore the following philosophies:  
Plant Growth, Plant Health, Plant Nutrition and etc. 

 

Design of the Agriculture System 

 
Indoor and Outdoor Agriculture Growth Designs  

 

Subsistent and Commercial Agriculture Crop Production 

 

Challenges and opportunities of our existing food system 

 

Social, economic and environmental impact of society 

 

Leadership and Sustainability Skills 

 
Hands-on Agricultural Experiences 

 
Mandala World Global Agriculture Academy students who successfully complete the agriculture courses will gain valuable leadership skills, the importance of individual self-expression which includes creative thinking and Mastery of subject materials. MWGAA students will understand the vital role that agriculture plays in their home environment, their community, nation and the World. In addition, students will be empowered with a greater understanding of their socio-economic disposition and how it impacts the World in which they live. 
If you are interested in learning more about our Agriculture Academy, get in touch with our staff to know how this program can better prepare you for the future.